It's easy to see why!
Anthracite Grey Bifold Doors, and Windows is suddenly the go to colour. For many years white has been the benchmark colour, be it wooden painted or of later years uPVC, there want really another go to colour until Anthracite Grey recently came onto the scene.
So, why is Anthracite so popular?
The reason is simple, people want their homes to look the best on the street,  Anthracite Grey is a classic colour that looks sleek and modern, along with more and more home owners extending and improving their properties instead of moving to a bigger or newer home, coupled with internal grey paint colours trending and has been for some years now.
It's not just doors and windows which are changing to Anthracite Grey, Bifold Doors are installed into most extensions and new builds, and yes, Anthracite Grey is the go to colour, the demand has been so great that customers are having to wait 4-6 weeks for their Anthracite Grey Bifold Doors and windows to be produced.
What are the shading options?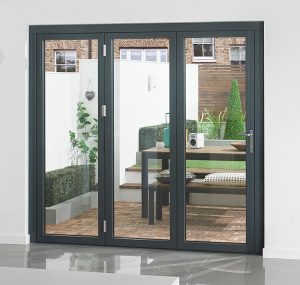 Up until the last few years the popular option has been curtains, Venetian blinds and vertical blinds, now there is a new kid on the block, Perfect Fit blinds, these offer such much more practicality as they fit directly onto Bifold Doors and uPVC windows with no screws! Yes, no screws, they clip neatly into the frame, these stylish blinds have taken the Anthracite Grey trend and made the frames in the colour so they look part of the bifold door and window frames.
Well, there is one theory relating to the increasing popularity of Aluminium doors. More and more people are putting bi fold doors or sliding doors to the back of their house, or aluminium front doors in place of their composite or pvc front doors. This is mainly down to the increased security and more modern look that Aluminium doors provide us.
Yet, Aluminium windows are still not taking off at the same rate. This could mainly be down to a cost issue – a good quality aluminium window has traditionally cost a lot more than PVC and yet they can't provide anywhere near the same level of thermal protection to your home.
Plus points of Anthracite Grey Perfect Fit Blinds.
They match perfectly to Anthracite Grey frames
The slat colour range is extensive to match or contrast with the decor of homes
No screws as they use a neat clip which sits behind the rubber casket on the glass
Perfect Fit blinds sit directly on the frame so it takes up no space which in turn looks contemporary, neat and is no trend
If you are interested in finding out more about Perfect Fit Blinds, look at blinds4bifolds.co.uk for  your perfect blind solution I  anthracite grey and other colours and styles to suit your home.