Anthracite Grey Bifold Doors and Windows – Why are they so popular?
So, why is Anthracite so popular?
It's easy to understand why people want their homes to stand out on the street. Anthracite Grey is a timeless color that exudes a sleek and modern vibe. With many homeowners opting to expand and upgrade their properties instead of relocating, this hue has become increasingly popular. Additionally, grey paint colors for interiors have been trending for several years now.
Anthracite Grey is becoming a popular choice not only for doors and windows but also for Bifold Doors in extensions and new constructions. The high demand for this color has caused a delay of 4-6 weeks in the production of Anthracite Grey Bifold Doors and windows, which is causing inconvenience to customers.
What are the shading options?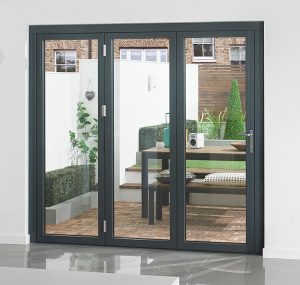 In recent years, Perfect Fit blinds have emerged as a practical alternative to traditional window coverings like curtains, Venetian blinds, and vertical blinds. These blinds are especially suitable for Bifold Doors and uPVC windows because they can be effortlessly installed without any screws. They attach neatly to the frame and come in fashionable Anthracite Grey to match the bifold door and window frames.
One theory suggests that the increasing popularity of Aluminium doors is due to their enhanced security and modern appearance. Many homeowners are replacing their composite or PVC front doors with Aluminium front doors, or installing bi-fold doors or sliding doors at the back of their houses. However, Aluminium windows have not gained the same level of acceptance, primarily due to their higher cost. While Aluminium windows offer a modern look, they cannot provide the same level of thermal protection as uPVC windows.
Plus points of Anthracite Grey Perfect Fit Blinds.
They match perfectly to Anthracite Grey frames
The slat colour range is extensive to match or contrast with the decor of homes
No screws as they use a neat clip which sits behind the rubber casket on the glass
Perfect Fit blinds sit directly on the frame so it takes up no space which in turn looks contemporary, and neat and is on trend
If you're searching for the ideal blinds to fit your home perfectly, check out our blinds for bifold doors page, where you will find a range of colours and styles, including anthracite grey, to cater to your needs.